Nationwide slams Government as profits plummet
With profits down and no recovery in sight, Nationwide thinks state intervention has a lot to answer for.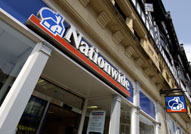 If it wasn't bad enough that torrential downpours have left some parts of the UK entirely under water, Nationwide provided its own gloomy forecast this morning. Britain's biggest building society saw first-half profits plummet 63%, blaming the record low interest rates (which have hammered its margins), the pressure on banks to preserve capital (which has made its borrowing more expensive) and the collapse of the commercial property market (which has driven up losses). And since it thinks unemployment will rise and house prices will fall in 2010, it's not expecting the UK to recover any time soon…

Government and central bank intervention in the sector is creating all sorts of problems, according to Nationwide boss Graham Beale. For a start, the mutual is finding it increasingly tough to compete with the state-backed banks on savings products. And for a lender that relies largely on retail deposits to fund its lending (how delightfully quaint), that's bad news: it still has more of our savings than anyone other than HBOS, but it's seen its market share drop in the last six months. Beale sniffs that he's 'elected not to chase market share in a retail savings market [that] is subject to serious competitive distortion and uneconomic pricing'.

The alternative way for Nationwide to raise funds is via the wholesale market. But here again, the new capital requirements imposed on banks by the Government is making that more difficult too – they're more reluctant to lend, so Nationwide's cost of borrowing shoots up. And then of course there's the fact that low interest rates have effectively been propping up the housing market, by making mortgages more affordable and keeping repossessions down. Arguably that's a good thing – but Beale says this, along with the lack of supply, are the only reasons why house prices are currently up on last year. As unemployment continues to rise next year, he's expecting prices to dip again. In other words: don't get your hopes up.

You can see why Beale is miffed. Although Nationwide's loan impairments hit £317m for the half-year, this was largely due to collapsing commercial property values (which he says are now starting to bottom out). Just 0.66% of his mortgage borrowers are falling behind on payments, about a quarter of the industry average, while he's not asked for a penny from the Government. Yet their attempts to prop up his less prudent rivals are making his life more difficult – and he still has to pay large amounts into the Financial Services Compensation Scheme, to cover the potential costs of banks going bust. Not surprisingly, he thinks the Government ought to cut him some slack...

In today's bulletin:
Nationwide slams Government as profits plummet
Don't let hedgies scupper Cadbury, says CBI's Lambert
Editor's blog: Bolland can slay the sacred M&S cows
Male entrepreneurs use social networking to get ahead
MT's 35 Women under 35 - and Carolyn McCall - hit LK Bennett