Nationwide warns of troubled times ahead
The building society may have had a decent few months, but its CEO warns the eurozone crisis has plenty more up its sleeve.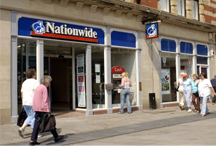 It would be an understatement to say the past few months have been tough for lenders of all shapes and sizes, and Nationwide is no exception. The company's half-year profit figures show that pre-tax profits dropped from £259m this time last year to £238m in the six months to September. And they slid considerably from the £317m it made in the first half of this year.

It's actually a little bit complicated, because the company's underlying profit before tax actually rose by 17%, from 147m in 2010 to £172m this year. Likewise, many of Nationwide's key indicators were reasonably positive: the bank increased mortgage lending by 38% to £8.9bn, lending 3% more to first-time buyers. Savings balances grew, too, by £2.4bn – 167% more than during the same period last year, which makes Nationwide the second-biggest savings provider in the country. And write-downs of bad loans fell, too – by 20%, to £144m.
The difference between the statutory and underlying profit figures is largely down to a £71m hedging loss (that's the investments it hedged as insurance against market swings on other investments) - the firm is not required to include this in its statutory figures but chooses to do so in its own underlyig measure of profit.
To put savers' minds at rest, though, chief executive Graham said Nationwide is 'well-placed' to cope with anything the eurozone can throw at it. 'Our balance sheet is one of the strongest of its kind,' he said. But that doesn't mean he isn't worried about what's coming. 'Market conditions are likely to remain difficult until the economy in the UK is more certain and the financial crisis in the eurozone is resolved,' he added. Not too much to ask, then…