NatWest Three cut a deal
After five years of dogged pursuit by the US authorities, and a highly controversial extradition treaty that prompted furious debate in the UK, the three ex-NatWest bankers accused of an Enron-related fraud are on the verge of taking a plea bargain that will see them serve a 37 month sentence, rather than the 35 years that they were originally facing. Was it really worth it?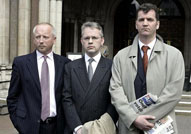 The 'NatWest Three' were extradited to the US last year to face seven charges of wire fraud, which carried a maximum jail sentence of 35 years. Now they've taken a deal in which they plead guilty to one of the charges, pay back the money and serve less than a tenth of that – probably in the UK.
Gary Mulgrew, David Bermingham and Giles Darby were accused – all the way back in 2002 – of persuading their employer Greenwich NatWest to sell part of an Enron-owned business on the cheap, before leaving the bank, buying the stake, selling it back to Enron for a huge profit and pocketing the proceeds (in collusion with two ex-Enron employees).
But the real controversy came over their extradition to the US, confirmed last year after a two-year legal scrap. They were shipped across on the basis of US-UK treaty hastily cobbled together in 2003 to facilitate the extradition of terrorists, which appears to make it much easier for the US to extradite UK citizens than vice versa. Naturally the government has denied this, but nobody seems particularly convinced – after all, it wouldn't be the first time that Tony Blair got the rough end of a deal with George Bush. In fact, even the US seemed surprised that we agreed to it. And it seems a bit ridiculous that the treaty was then used to extradite a trio of frightened bankers (whether or not they were up to no good).