Naughty calendar has Ryanair in a flap
It's a format as outdated as Hugh Heffner's false teeth, and airline staff aren't impressed.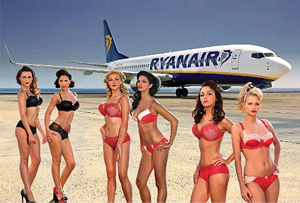 You've got to hand it to Michael O'Leary, the Ryanair CEO whose outspoken style (not to mention zany ideas) mean he's never far from headline-writers' thoughts. This time, though, things have got serious: one of the airline's cabin crew has started a petition against an ad for its charity calendar, which features the words 'Red Hot Fares & Crew!!!' alongside 'Gillian, March' posing in, well, not an awful lot. Perhaps it's a hint that Ryanir is about to start charging passengers for the privilege of wearing clothes, in-flight?

But a flight attendant at a rival airline, who gives her name only as Ghada, has got 7,157 people to sign up to the petition, which accuses Ryanair of 'objectifying' its staff, and calls on the Advertising Standards Authority to ban it. 'You should be selling your service, not the attractiveness of your female staff,' says the petition. 'Were you actually hiring your female staff based on their looks, it would be illegal.' Which is a good point.

The fors and againsts of the argument are well-rehearsed: on one hand, it's a 'bit of fun', and the airline says it's hoping to rise £85,000 with the calendar. On the other, it doesn't exactly say much about the company's regard for its female staff members that it wants them to appear with nothing on for a calendar. Then again, if you look at the calendar itself (image above, but there's a larger version here), there's some pretty ropey photoshop work going on there – which doesn't say much about its respect for the models themselves. And you only need to glance at this picture to see exactly how much respect O'Leary has for them (warning: contains chest hair).

The fact that Ghada has persuaded 7,000-odd people to sign her petition suggests O'Leary would do well to find another way to raise money for charity. A sponsored whinge against Ryanair, perhaps? Or a bake sale? Although to be fair, O'Leary would probably find a way to make people pay an icing surcharge.
--- UPDATE ---
Changes made to show Ghada is not an employee of Ryanair.