Nearly 70 applicants for every graduate job
That's the harsh reality facing the poor old class of 2010 - not to mention their predecessors...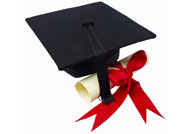 Life has got even tougher for graduates this year: new research by the Association of Graduate Recruiters reveals that employers are expecting to hire nearly 7% fewer graduates in 2010, after a drop of nearly 9% last year. As a result, when this year's crop of university leavers apply for jobs, they'll be competing against 68 other people in exactly the same boat - more than twice as many as two years ago. Given the general climate, perhaps that's not surprising. But we can't quite understand why the public sector is one of the very few expecting to pay grads more this year...

The AGR figures are based on responses from 215 (mostly large) public and private sector employers, who recruit around 18,000 grads a year between them. And it certainly looks as though any optimism they were feeling last year has evaporated: the predicted fall in vacancy levels is four times higher now than it was before Christmas (which doesn't bode well for the Government's theory of a private sector-led employment recovery). We had two consecutive years of falling numbers after the dotcom bust too - but the decline will be much steeper this time (despite many employers later acknowledging that they cut recruitment too far back then).

Some sectors are being hit harder than others. FMCG, IT, and retail are all expecting numbers to drop by more than 30% (interestingly, the public sector is predicting a mere 9.7% fall, which sounds incredibly optimistic to us). But at the other end of the scale consultancies, insurance companies and banks seem pretty chirpy - the latter, for instance, has pencilled in a 72% rise this year. Admittedly this is partly because they cut numbers massively last year, but the indication of a return to 'business as usual' in the City will go down like a lead balloon with the general public. More bankers - just what we need...

This might make sense for the companies concerned, as they face up to the prospect of a distinctly weedy recovery (at best). But it's not much fun for the class of 2010, who are now competing with an average of 68.8 people for every role. Apparently this is partly because people are putting in more applications to hedge their bets. But it's also because they're having to compete against their predecessors from the previous two years, many of whom still haven't managed to find a decent job. (One consequence of this is that almost 80% of recruiters won't look at someone without at least a 2:1.)

Another curiosity we've noticed: of the five sectors expecting starting salaries to rise this year, four are expecting to recruit fewer people. And bizarrely, the public sector is expecting the biggest hike of all - some 5.5%. Weren't they listening to the Budget?
In today's bulletin:
UK economy perks up - but for how long?
Editor's blog: Ocado - to buy or not to buy?
Ryanair flourishes as BA strikes hit home
Nearly 70 applicants for every graduate job
Unions drop BT strike call after legal hitch