We need more fathers taking Shared Parental Leave
Equality begins at home, but there's also a business interest in encouraging men to take time off, says Lindsay Pattison.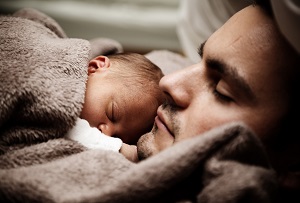 Last year, the launch of Shared Parental Leave (SPL) seemed to promise more flexibility and freedom for women to choose when they would to return to work after their baby is born, while offering men an opportunity to be more involved in childcare. But uptake of SPL has been resoundingly low at 1%.
Company culture is a big part of the problem. A quick dig into the stats reveals that just 40% of employees say that their bosses actively encourage sharing leave. Policies such as SPL will never work in isolation; business leaders need to create a wider ethos of equality to remove practical and cultural barriers to people being able to thrive in their careers, regardless of their gender. And it will work in their favour to do so.
Parity begins at home
If men were encouraged to be more hands-on with parenting, women wouldn't face an opportunity cost in terms of their career and this first hurdle would be removed. We shouldn't overlook the benefits to men either. The cultural (mis) perception that masculinity equates with ambition and full-time work leads to many fathers missing out on precious time with their children.