Nerves jangle as insolvency figures jump 26%
The latest official insolvency figures paint a pretty gloomy picture of the state of the UK economy...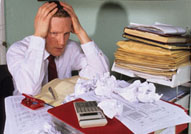 The Insolvency Service has just released its third-quarter figures, and they make pretty grim reading: 4,001 UK companies went into liquidation during the three-month period, a 26.3% increase on last year and a 10.5% jump from the previous quarter. Scarier still, the number of companies going into administration jumped by 50%, and the number appointing receivers shot up 238%. And as the Bank of England's whopping rate cut highlighted yesterday, things are likely to get a lot worse before they get better…
Many of the companies that have gone to the wall will be SMEs, but this last quarter has also seen some high-profile collapses – notably Lehman Brothers, which according to Grant Thornton 'may have a greater economic impact than all the other administrations put together' (in which case it's presumably miffed PwC got the gig). Worryingly for our ailing financial institutions, it also thinks we haven't seen the last of the fall-out.
In total 1,007 companies called in the administrators between July and September, up from 668 in the same period last year, while 270 firms opted for receivership instead (last year's figure was 80). There's no question that it's been a tough time for UK plc, with declining demand, higher commodity costs and a lack of bank finance all putting the squeeze on businesses of all sizes.