Nestlé ad banned for milking health benefits of Nesquik
It's not been a 'great start to the day' for the Swiss-based company.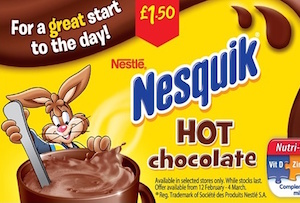 The Advertising Standards Authority (ASA) gives with one hand only to take away with the other. While Mulberry's Christmas campaign lives to fight another day, Nestlé is in hot water because of a Nesquik ad.
The former used a luxury handbag in place of baby Jesus in a tongue-in-cheek take on the nativity story, which drew 42 complaints saying the ad was blasphemous and offensive to Christians. The ASA concluded it was a 'playful and ridiculous comparison', which was more likely to be seen as a humorous reference to consumerism rather than ridiculing the religious story.
Nestlé UK meanwhile, ran an ad on Asda's own-brand milk labels featuring a bunny character stirring a cup of Nesquik hot chocolate. But according to the Children's Food Campaign, the advert's claim 'For a great start to the day!' encouraged poor nutritional habits in children, since the drink was high in added sugar. That and the choice of the bunny character was apparently a step too far.