Nestle aims to take a chunk out of youth unemployment
The Swiss food giant has promised to create 1,900 UK jobs and work placements for young people.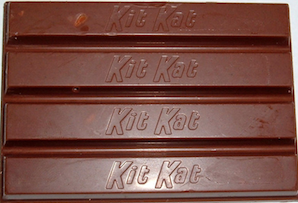 The idea of working for the company which makes KitKats and Rowntree's Fruit Pastilles, probably sounds like a Roald Dahlian dream to many school kids, and now Nestle has announced it'll be helping them to get their first jobs, by creating some 1,600 opportunities for young people in the UK and Ireland over the next three years.

The Swiss food and drinks company has also pledged to create 300 paid work placements – in a bid to tackle the UK's lingering youth unemployment problem.

The promise is part of a wider pledge by the food giant, to create 20,000 jobs for the under-30s across Europe. Many of the jobs up for grabs will be sales assistants, shop floor workers and management positions.

'With youth unemployment steadily rising we all need to play our part in creating opportunities for the next generation,' said Nestle's UK chief executive Fiona Kendrick.

'Attracting new talent and investing in future skills is key to the continued success of our business, which is why we are offering school leavers, university students and graduates the chance to gain experience throughout our business.'

The announcement came in hand-in-hand with a study by the company, which found 90% of business leaders feel school leavers are lacking in the basic skills they need to enter the workplace.

While the study found companies were dissatisfied with young people's workplace skills, it also pointed out only 28% said they had a relationship with their local school or college – something Nestle said needs to change.

'Young people in the UK and Ireland are stuck in a Catch-22 situation - they can't get a job without experience, but can't get experience without a job,' Kendrick told the BBC.

'Companies need to help young people escape from this trap. As employers we value young people with experience, so we have to provide young people with enough opportunities to gain it.'

Kendrick has more reason than most to get stuck in and try to address the youth unemployment issue – she was appointed the UK Commission for Employment and Skills earlier this year. Browny points for Kendrick.

Nestle is also partnering with social enterprise company MyKindaCrowd to give school and college students skills and employability training. Tesco, BP, McDonald's, RBS and BT are also among the members of the network – which gives access to placements and mentoring sessions.

The move isn't completely altruistic of course, Nestle has an ageing workforce and has spoken about the skills gap it faces if it doesn't find young talent to join the company. The pledge to help young employed people is also quite a canny PR move for a company, which is frequently accused of being less-than-virtuous...