Network Rail - passengers, debt and profits all rise
Not many companies can combine high levels of debt with high profits - but Network Rail is managing it.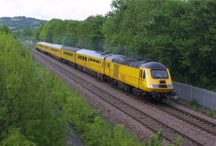 More people are travelling on the trains than ever and Network Rail, the government-backed company which manages all UK rail infrastructure apart from the trains, is struggling to keep up.
As a result, the group's debts have soared by almost £1bn (£843m) to £28bn in the last six months alone. This was mainly because of a £2bn investment in lines and stations, which included redeveloping Reading Station and making improvements on the East Coast and West Coast main lines. But there is some method behind the madness. Overall, Network Rail's profits after tax jumped to £573m – more than four times the £136m made a year ago.
The £28bn debt pile is still largely a hangover from its creation a decade ago. The group was created by government decree in 2002 after the Hatfield crash in which four people died as a result of maintenance failures by its predecessor, Railtrack. And after inheriting an ageing system, Network Rail's management are struggling to bring Britain's rail infrastructure up to date (over 1.4 billion passenger journeys are expected to be made on Britain's trains this year.)