Network Rail profits on the right track despite heavy investment
The government-subsidised infrastructure company has announced its profits are up but its debts have edged up too.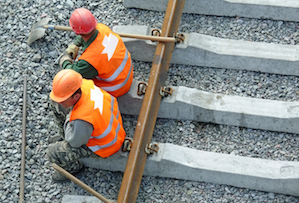 Sir David Higgins, the outgoing chief executive of Network Rail must be pretty chuffed with the UK's energy bosses; they've taken the heat off him - as train faires speed towards a 4.1% January price hike and Network Rail still falls short of its punctuality targets.

The company has announced profit after tax for the first six months to 30 September was £870m – a significant leap from £563m in the same period last year. Revenues rose by £100m to £3.27bn and operating profit dipped only slightly from £1.2bn to £1.23bn in 2012.

The company defended its punctuality (or lack thereof), claiming performance was, 'still at high levels by historical standards,' but admitted it had 'fallen behind targets.'

'With a million more trains and half a billion more passengers than 10 years ago our railways are all but full,' said Patrick Butcher, group finance director.

'We are squeezing all we can out of the existing network and new railway lines, such as High Speed 2, must be built to deliver the step-change in capacity that Britain's vital rail arteries need.'

The company's net debt edged up slightly from £30.36bn to £30.61bn – in part due to the £2.74bn it is investing in the rail network ('about time too,' we hear you all yawn). Investment is up 33% on the same period last year and 53% higher than it was four years ago. King's Cross station is a particular example of the work being carried out.

'We continue to invest record amounts to deliver a bigger, better railway for passengers and businesses across Britain,' said Butcher.

'We are also driving down the cost of running Britain's railway to help make it more affordable in the years ahead.'

Clever words from Butcher but they will be cold comfort to commuters faced with higher fares post-Christmas.

With long-standing chief executive Sir David Higgins bowing out in January (before or after hikes? We're not sure) his replacement Mark Carne will no doubt be readying himself for the storm.

He should be pretty well prepared though, he has already felt the fierce winds of disapproval – when his appointment was announced, unions accused the government of insulting train passengers. The union took offence, not to Carne's pedigree – coming from Shell – but to his salary; Carne is set to receive over £675,000 a year - £84,000 more than outgoing chief exec Higgins.

MT forecasts the eye of this storm to hit in January – batten down those hatches.