Our new blog: Psychology at Work
All businesses are people businesses. Our new blog looks at what makes companies and leaders tick.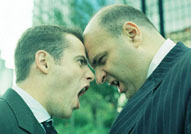 Here at MT, we've long been interested in the psychology of the workplace. However much some people try to break it down into figures on a spreadsheet or assets on a ledger, business ultimately comes down to human relationships - and that's what makes working life so rich and complicated. So for our brand-new blog site, we wanted a specialist to talk about what makes leaders, managers and employees tick on a day-to-day basis, and in particular, how the new business climate is changing people's attitudes and perceptions. So we're delighted to have teamed up with specialist consultancy Pearn Kandola. In the coming weeks, senior partner Professor Binna Kandola and Head of Development Stuart Duff will be pulling no punches as they share their thoughts on the stories making the headlines.

In his first blog, 'Blair's style typifies what went wrong with leadership', Binna looks at Tony Blair, in the news again today amid reports that he's doing some serious canvassing of world leaders in his continuing (and apparently doomed) bid to be named EU President. Binna - who's spent a lot of time studying the former PM - reckons that the leadership style he popularised is partly responsible for the failures that led to the financial crisis. Do you agree? Click here to read more and give us your ten-cents' worth...

In today's bulletin:
Cadbury poised to turn up its nose at Kraft
Sugar schmugar - Lloyds to back an extra 30,000 start-ups
Monday morning blues a sickener for employers
Our new blog: Psychology at Work
MT Expert's Ten Top Tips: Make your meetings more productive