New CEO for Co-op as it prepares to triple its bank business
Euan Sutherland will replace Peter Marks as CEO next year, as the Co-op hopes to capitalise on customers' anger at the 'big five' banks.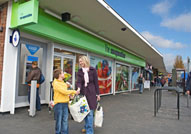 The Co-operative Group has been on an ambitious expansion drive over the last few years and a new chief executive will now lead the Group as it prepares to triple the size of its bank.

Euan Sutherland, who is currently group chief operating officer at Kingfisher, will become the Co-op's new CEO in May, it was announced today. He'll replace current CEO Peter Marks, who is stepping down after 45 years at Britain's largest mutual which deals in everything from supermarkets and funerals to banking and travel agencies.

Peter Marks, who began his career at the Co-op stacking shelves, oversaw most of the Co-op's growth in the last decade. He led the Co-op's £1.6bn takeover of Somerfield and the merger of the Co-op's bank business with Britannia Building Society in 2009. Marks had also just secured a purchase of 632 bank branches from Lloyds (codenamed 'Project Verde') in August when he announced he would retire in May 2013 to let a new CEO oversee the integration of the two banks.

'Integrating this very complex transaction could take up to five years in total - and I'm 63 now,' he told MT at Britain's Most Admired Companies awards, where the Co-op Bank won the award for Community & Environmental Responsibility . 'It's better not to go in the middle of a major integration.'

New CEO Euan Sutherland is a retail and consumer specialist who used to chair Kingfisher's B&Q chain and is already a non-executive director of the Co-op's supermarket arm.

The Co-op reported turnover of £12.3bn in 2011 and profits of £373m. More than half of that profit came from its food business, but the Co-op has taken advantage of the ongoing banking crises to grow its financial services arm.

'The reputation of the banking industry is toast. So what an opportunity for a different kind of bank that puts ethics and principles at its core,' Marks said. 'Now, the Co-op Bank has 300 branches, but the 600 Lloyds ones will triple our presence on the high street. We'll be a real challenger to the 'big five' and that's what the industry needs.'

- The full interview with Peter Marks will appear in the January edition of MT. See the online version here.
- VIDEO: Peter Marks on why the Co-op has been so successful.