A new dawn in videoconferencing
It's a familiar scene: you're sitting in your boardroom staring at a screen. On it, a group of people looking much the same as you and your colleagues are sitting round a desk very similar to the one in front of you.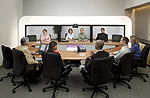 The picture is blurred and shaky, making your on-screen meeting co-attendees look like they're in Uzbekistan rather than New York, where they actually are. One of them speaks for a while then pauses, which you take as an invite to you to offer your own thoughts on the matter at hand. But almost immediately after you've begun your colleague starts speaking again. The two of you then fall into a staccato pattern of interruptions and silences as you both struggle to regain the rhythm of the conversation. A sizeable portion of the meeting is lost in this way.
Welcome to the wonderful world of videoconferencing, as currently practiced by thousands companies across the world. As our working environments are updated and improved in innumerable ways, videoconferencing has stubbornly refused to haul itself far beyond the basic technology it began with.
But things are changing. The Cisco Corporation's new Telepresence technology, launched last week, marks a radical departure from existing videoconferencing systems. Noting that more than 60 per cent of in-person communication is non-verbal, the company boasts that Telepresence "transforms remote experiences by capturing such important interactions through a rich, high-quality experience that is almost the same as an in-person interaction, regardless of the distance between the parties".
So does it live up to the hype? More or less, yes. A meeting was held via Telepresence a few weeks ago between a group of journalists in the UK and another group in New York, who were accompanied by Cisco chief executive John Chambers. We were ushered into a small room at Cisco's London HQ and placed around half an oval table, which sat six people. Where the other half of the table would have been there were three 65-inch plasma screens. At the push of a button our colleagues in New York appeared in front of us and indeed, they looked and sounded almost as if they were in the same room.
The cameras angles are designed to enable direct eye-to-eye interaction, which is nearly achieved but not quite. Depending on their seating position in the other room, the person addressing you will either seem to be looking directly at you or at something stuck behind your right ear. Cisco assured us that people used to the system can be 'trained' to improve eye contact, but that seems to defeat the object. The sound quality is near-perfect, though, giving you the freedom to interrupt and argue to your heart's content without fear of conversational collapse.
A drawback for any company seeking to introduce this technology in the near-future is the price. It will set you back $299,000 for a top-of-the-range three-screen room (and of course you'll need to splash out on an equivalent room somewhere else), while a singe-screen room will cost you $70,000. You will also need to have the capacity to run the system.
In the short-term, expect Telepresence to be taken up only by major companies with the financial clout to afford the technology. Eventually, though, Cisco predicts that most people will have a form of Telepresence installed in their home. This could lead to doctor's appointments, specialist consultations and, of course, ordinary conversations being conducted face-to-face yet thousands of miles apart. Marthin De Beer, vice president of Cisco's Emerging Markets Technology Group, has already developed something along these lines for his own purposes. Faced with the loss of a key employee who had decided to move to Texas, De Beer set up a Telepresence system linking his office with his employee's new home. De Beer and his staff in his San Jose office now communicate with her via a screen installed where she used to sit. Which is slightly unnerving, when you think about it.
Another drawback with Telepresence is that the ultra-high definition screens are so powerful they seem to reveal every facial flaw and blemish. Expect sales of cosmetic concealer to rise accordingly.
Review by: Nick Loney