New Generation Moneylenders
Banks have never been popular, but borrowers haven't had a choice. But a new generation of peer-to-peer lenders is harnessing the internet to offer better rates and higher returns. Where's the catch?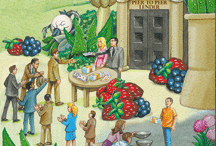 Hate the banks? You're not alone. Their unwillingness to lend to small businesses is potentially slowing the recovery and putting jobs at risk. But, despite the bankers' stinginess, life goes on, and a new generation of lenders and borrowers are cutting out the banks completely and opting for a new alternative - peer-to-peer, or P2P, lending websites.
The first P2P site was Zopa, which launched in 2005. Inspired by eBay, it aimed to harness the internet's power to create a feeling of community and create a marketplace where lenders and borrowers could come together. It was followed by another similar site, RateSetter, and now the banks' reluctance to lend has triggered a new generation of copycats such as Funding Circle and Funding Store that facilitate lending not to individuals, but to businesses.
So how do they work? RateSetter was launched last October by Rhydian Lewis, an ex-Lazard investment banker, and former RBS man Peter Behrens. Borrowers want to do ordinary things, like buy a car or pay for a wedding, but for whatever reason can't or don't want to go to the banks. Potential borrowers simply register, explain how much they want, why, and give some details about their financial affairs. The site credit checks them and if they are deemed reliable they can ask for cash. Lenders then each offer a fraction of the loan, at a cost they choose. So, somebody who wants £3,000 for a conservatory might be loaned £20, £50 or £100 by dozens of people at a variety of rates.