New oil price boon for motorists
As oil sinks below $50/ barrel, it looks like filling up our cars could be a lot cheaper by Christmas...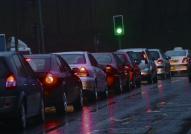 Yesterday, the oil price dipped below $50/ barrel for the first time in three-and-a-half years, with Brent crude dropping to $48.90. Back in July, oil was trading at a record $147 – but with a global recession looking increasingly inevitable, concerns about falling demand have driven the price down by two-thirds in the space of just four months. And the good news for the rest of us is that with Christmas approaching, the price of petrol is expected to plummet in the coming weeks...
There's no great mystery about the decline in the oil price (the mystery, if anything, was why it went so high in the first place). As the world goes into a particularly nasty downturn – as evidenced by plunging stocks, huge companies falling over and economies everywhere going into recession – we'll clearly be consuming less energy. And falling demand equals a falling oil price – at least until OPEC reduces supply to such an extent that an equilibrium is found (it's already slashed production once, and it's bound to do so again next week). We're not likely to see oil back at $100/ barrel for a while, that's for sure (although it has crept back above $50 this morning).
However, if you're not in a major oil-producing cartel, there's a lot to be said for the fall in oil prices. In the short term, it should make petrol cheaper at the pumps – the RAC is estimating that it could fall to about 88p a litre by Christmas, which would make it about £17 cheaper to fill up the average family car than it was in the summer. Welcome news for those of you set to embark on a string of family visits during the festive period… In fact, supermarket chain Morrisons has already said it will drop its prices to 89.9p a litre as of today, which will no doubt force rivals to follow suit rapidly.