New Orleans: the rebirth of Sin City
A decade after hurricane Katrina devastated New Orleans, the Big Easy has re-emerged with a new sense of entrepreneurial ambition - luring a host of tech start-ups with generous incentives.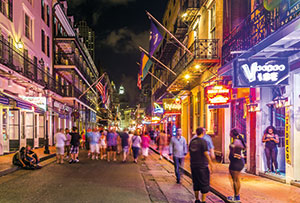 Unless you had a very long summer holiday somewhere remote this year, you will already have been reminded that 29 August 2015 marked the 10th anniversary of hurricane Katrina, one of the worst storms ever to strike the US. The hurricane - which peaked at a 175mph category five but slowed to 'merely' a 125mph category three - made landfall on the brackish seaward fringes of Louisiana at 6.10am that Sunday, only a short blow south of New Orleans, birthplace of jazz, pleasure capital of the Gulf Coast and one of the poorest and blackest cities in the US.
The storm headed swiftly inland, and - compounded by subsequent man-made shortcomings, from the infamous failures in the city's flood defences to chaotic, tardy and inadequate responses from government - went on to claim the lives of some 1,800 New Orleanians, displaced 400,000 more and left 80% of the city underwater for weeks. With a clean-up bill in excess of $100bn and counting, Katrina has become the costliest natural disaster in US history.
It's a tale with a satisfyingly plunging narrative arc, but the drama has now moved on. After a decade in which the Big Easy never had it so hard, a new more focused city, slightly chastened perhaps but determined to prove the naysayers wrong, has emerged. Economic redemption is at hand, and what's more the city's growing band of ambitious and energetic entrepreneurs has played a major part in making it happen.