Is new restaurant body really sustainable?
The Sustainable Restaurant Association is open for business. And it's easy to get a seat at the table...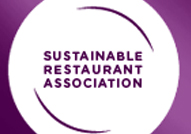 The SRA, which launched last night, aims to make members of as many of the UK's 30,000 restaurants as possible. To do so they have to satisfy the SRA's sustainability criteria in 14 areas, ranging from sustainable ingredients to waste management, and including such measures as dishing out doggy bags, serving veg, and installing waterless urinals.
Sounds like an admirable venture. And not just because any restaurant that signs up qualifies for a free sticker. Displaying the official 'we're at the table' logo in the window is a sign you're on the road to sustainability - you just have to satisfy more of the criteria each year to stay in. Call it a course-by-course approach to cleaning up your act, rather than trying to shovel the whole sustainability thing down your throat in one go.