New tax year, new tax hikes?
The IFS says the Government may need to raise an extra £1,200 per family to plug the budget deficit.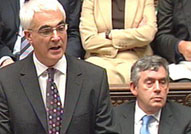 The Institute of Fiscal Studies reckons that if the Government wants to get public borrowing under control, it will need to get its hands on an extra £39bn per year by 2016 – and that's on top of its current money-saving plans. If it relies on tax hikes for this, the average family in the UK would end up paying an extra £1,250 in tax every year. A painful prospect – but with the cost of bailing out the banking sector continuing to spiral, the IFS thinks that the Government needs to go an awful lot further than it has done so far.
The IFS estimates that the total bill for the banking bail-out will eventually tot up to around £130bn. And unfortunately, the Treasury hasn't yet factored this into its sums. In last year's Pre-Budget Report, Chancellor Alistair Darling identified £38bn of cuts, but the IFS reckons he'll need to find at least twice that – which is likely to mean all of us paying higher taxes. Although since even Darling now admits the recession's going to be a lot worse than the Government suggested (who'd have thought it), it's going to have a tough time scraping that kind of sum together.
As the new tax year begins today, higher-rate tax payers are already facing up to paying NI at 11% for a larger chunk of their income. But if the IFS is to be believed, this could be the least of high earners' problems: since any Government would have a hard time hammering those on low incomes to pay for bankers' excesses, they're the ones likely to bear the brunt if taxes do go up.