Newcastle United kicks up a stink over new sponsor, Wonga
Controversial payday lender Wonga has struck a £32m, four-year sponsorship deal with Newcastle football club. Labour MPs, Muslims and Newcastle fans unite in uproar.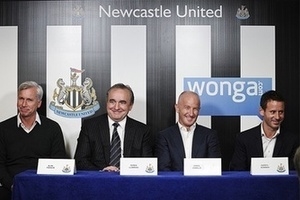 Gone are the days when the black and white Newcastle shirt was adorned only by Newky Brown's blue star. From next season, the big blue Wonga logo will be emblazoned across the chests of star striker Papiss Cissé and winger Hatem Ben Arfa.

The deal has prompted a storm of controversy from Newcastle fans and politicians alike. Leading the charge is Labour MP Stella Creasy, who has launched a campaign called 'Sharkstoppers' in an attempt to stop the burgeoning growth of the payday loans industry. She's a real tubthumper, this one: 'It's only through preying on families struggling to make ends meet that Wonga has made enough money to be able to sign this deal with Newcastle,' she says.

But this isn't Wonga's first footie deal: it already sponsors both Blackpool and Hearts. On top of the £8m-a-year contract Wonga is investing £1.5m to support Newcastle's academy and its Foundation Enterprise Scheme which helps school-leavers find employment. The loans company has also decided not to rebrand the Sports Direct stadium as the Wonga stadium, it will instead go back to being simply: St James' Park.

But this fan-pleasing move has not been enough to quell the uprising. As of this morning, word on the pitch is that Muslims may boycott the club for contravening Sharia law - money-lending is prohibited in the Quran. This could have dire consequences for the club. Some of its most talented players are devout Muslims: Demba Ba, Papiss Cisse, Cheick Tiote and Hatem Ben Arfa…. Shaykh Ibrahim Mogra, assistant secretary general of the British Muslim Council, explains: 'The Islamic system is based on a non-interest-based system of transaction.'

But all is not lost. Wonga may allow Muslim players to wear unbranded shirts – a gesture of goodwill, if you please. After all, when gambling firm 888.com sponsored Sevilla, striker Frederic Kanoute, a practising Muslim, didn't have to wear a logo.
MT wonders whether this occurred to Newcastle bosses during negotiations?