News Corp: James and Lachlan Murdoch receive vote of no confidence
Over a third of News Corporation investors have voted against the re-election of James and Lachlan Murdoch to the board.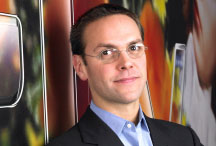 News Corp investors have voiced their discontent with the running of News Corp. At Friday's AGM, they attempted to oust the Murdoch brothers from the board and dilute the family's influence in the company.
Around 35% voted against James Murdoch, News Corp's deputy chief operating officer, while 34% voted against elder brother Lachlan. News Corp chairman Rupert Murdoch didn't escape entirely unscathed either. The media mogul received 14% of 'no' votes.
James Murdoch, who won the unpopularity contest, was implicated in the recent phone hacking scandal for his alleged knowledge of underhand practices at the News of the World. However, Lachlan plays no part in the day-to-day running of the firm, having resigned from News Corp in 2005.