Are these the next big business apps?
SPONSORED: O2 reveals the four finalists of its #mybizapp competition.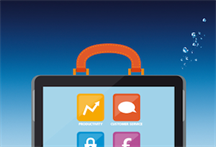 After whittling down scores of entries, O2 has picked out four finalists with the potential to create the next 4G supercharged business app.

When O2 launched the competition in October, the mobile phone giant stated that entrants should build on the advantages of 4G – such as faster access to video and large files – to help businesses become more productive and to create a better experience for their customers.

Have these finalists got what it takes? We reveal the winner, and the three runners-up…
WINNER:
Report Back - Paul Teague
Report Back allows people to create highly detailed, location based reports from their smartphone. Businesses can incorporate images, video, 360 degree views, 'stitched together' tours, audio, document scans and text into their reports. For example, if a user is checking out potential new business premises, they can select a template and choose to customise it with photos and text only, video with audio commentary, or video only. Users can then upload their reports online, using Google Hangouts and Skype to share with others.

'It gets rid of inaccurate 'pen and paper' tasks and reduces time spent and paperwork involved by automating repetitive tasks and removing the need to return to the office to file reports or attend meetings to discuss them,' Teague says.

The judges thought the ReportBack app demonstrated 'an innovative way for any business with a remote presence to make the most of 4G technology. The application was well thought-out and excited us with the number of possibilities for where it could be used'.

RUNNERS-UP:
BillMeUp - Joel Chu
BillMeUp is a 'time and place tracking, billing software with a twist', the entry says. Aimed at contract or temporary workers, the app allows agencies to assign jobs to their register workers. It will also automatically clock people in when they arrive for work and allow them to easily generate invoices.

'There are plenty of timesheet apps out there. But most of them require manual entry which is yet another form to fill,' Chu says.