The next generation CEO
They are younger, earn a lot more than their predecessors and are far more likely to quit their job than a decade ago. Welcome to the new generation of CEOs.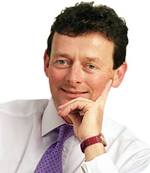 According to management consultancy Egremont, CEOs in Europe, North America and Asia are under more pressure than the earlier 90s model, even though there is no statistical correlation between performance and pay (according to a Forbes study).
Sean Connolly, director at Egremont, said: "Companies are bigger and chief executives need to lead with more innovation to stay on top - and their profile is changing to reflect this."
The most obvious change is age. For example, HMV's Alan Giles retired in his sixties and was replaced by 46-year-old Simon Fox. Lord Brown of BP is 58 while his successor Tony Hayward is only 49.
The pressure on CEOs to produce increased returns on investment at public companies has increased, and they cannot expect to remain in post for 20 years to achieve it.
Egremont has produced a guide for 'CEO 2.0' - areas in which CEOs need to focus on to succeed in the new environment:
* Anticipating the future
* Creating a spirit of innovation
* Insisting on responsible business
* Driving change throughout their organisation.
The survey also found that Japanese CEOs are far less likely to be removed from their position than those in Europe or America. European CEOs were more likely to be forcibly removed than their US counterparts.
The main reasons for CEOs leaving are planned succession (57%), performance issues (31%) and mergers or corporate governance issues (12%). The highest CEO turnover was in the healthcare and computer sectors, while the lowest was in construction.
The survey is based on a number of data sources including Booze Allen Hamilton, Challenger Gray & Christmas, and the Global 500 CEOs survey.
Source:
Egremont reveals the identity of CEO 2.0
Egremont Group
Review by Joe Gill