Next and Kingfisher cash in as retail sales rise
Next and Kingfisher have both had bumper years. But the overall outlook for 2010 seems distinctly mixed.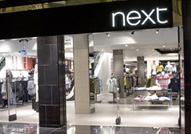 Good news from the world of retail today: after the high street's deep freeze in January, the ONS says that retail sales warmed up 2.1% last month. And there were two notable success stories to celebrate: fashion retailer Next said its annual profits were up 18%, after a better-than-expected Christmas, while B&Q owner Kingfisher's stellar performance in Eastern Europe helped it boost profits by 50% during the same period. But since January's sales appear to have been even worse than originally thought, it's perhaps no wonder that Next boss Simon Wolfson struck a typically cautious note about the year ahead...

Nonetheless, one-time laggard Next has good reason to be feeling pleased with itself. It managed to notch up revenues of £3.41bn for the year to January 31, up from £3.27bn last year (catalogue arm Next Directory did particularly well, with sales up 7%). All in all, pre-tax profit was up almost 18% at £505.3m. That's an impressive showing in a year of recession, and has allowed the retailer to increase its dividend by 20% - much to the delight of shareholders, presumably. Sadly it seems people in Northern Europe don't share our enthusiasm for Next's clothes and home ranges; the company's international stores haven't been doing so well, so Next has halted expansion abroad for the time being.

By contrast, Kingfisher's international plans have been going swimmingly: the increasing popularity of DIY retailer B&Q in European countries such as Turkey and Poland helped it to boost profits by 50%. Its UK business looks pretty buoyant too, boasting a 64.5% rise in profits (to £566m). Since none of us can afford to move house these days, we're clearly opting to spruce up our homes rather than sell them – which is great for the DIY market. Kingfisher's shareholders will also be happy, after the company announced it would be paying its first dividend in five years.

At first glance, today's ONS figures on retail sales – the biggest month-on-month rise for nearly two years – appear to confirm this improved sentiment. The only problem is that January's sales slump has actually been revised downwards; the drop was actually 3%, not 1.8% as originally thought. So although customers seem to be more willing to flash the cash now, we probably shouldn't get ahead of ourselves. Spending is 'still relatively weak', as the ONS reminds us, and Wolfson was relatively downbeat about prospects for the coming months. Even for the likes of Next, it's going to be a long year.

In today's bulletin:
Budget 2010: Government to decide which industries get a leg-up?
Next and Kingfisher cash in as retail sales rise
Jarvis calls in administrators as banks pull the plug
'35 Women Under 35' 2010: Who are the UK's top young businesswomen?
Books Special: The China Strategy, and why it matters