Next takes another beating
Next has reported another fall in sales - and says things will only get worse in the coming year...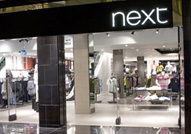 Fashion retailer Next said today that like-for-like sales for the 14 weeks to November 1st were down 4.4% on last year, as dwindling confidence continued to drive customers from the high street. And the next quarter is unlikely to be much better: although Next Directory sales will probably end up in positive territory, like-for-like retail sales will be down between 4% and 7%, it says. To make matters worse, the plunging pound is hammering its bottom line by making every stage of its manufacturing process more expensive. So not a lot to shout about, all in all...
Worse still, the struggling Next apparently sees little sign of light at the end of the tunnel. Lower rates and falling commodity prices should put a bit more money back in people's pockets in 2009, it suggested today – but with house prices falling and unemployment rising, there's unlikely to be a big shopping binge. 'On balance we therefore expect negative like-for-likes to continue throughout next year,' Next confessed. (Its share price has actually nudged upwards today – but only because things don't seem to have got any worse since the last trading update).
The problems at Next are hardly a surprise – it's been struggling for months. But after Marks & Spencer reported a 34% drop in half-year profits yesterday, this is still bad news for the high street. It's clear that mid-market retailers are getting squeezed hard in the slowdown, with customers either opting for cheap and cheerful options instead (by way of contrast, Primark's sales are up 4% year-on-year) or deciding not to spend their money at all.