What next for the toxic grocer?
Tesco's troubles are deep-rooted and multiplying. Does new boss Dave Lewis have the beans to turn the retail giant around, asks Matthew Lynn.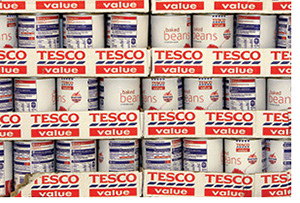 Dave Lewis is a big man, with the square granite jaw of a natural rugby player. He speaks fluently and with a natural good humour, but there is a hint of steel threaded through every sentence. On the morning of 8 January, he addressed journalists to unveil the first steps in his turnaround strategy for Tesco. Five months after being parachuted into a supermarket chain that appeared to be in chaos amid falling sales and a Serious Fraud Office investigation, he was about to impose his own stamp on the business.
During the long and torrid Tesco autumn, the ex-Unilever executive could be forgiven for wondering what he'd let himself in for. On 22 September, the grocer admitted to overstating its profits by around £250m on payments from suppliers. Four senior executives including the UK supermarkets boss, Chris Bush, were suspended and the matter was referred to the Financial Conduct Authority. A day later, Alan Stewart, a former Marks & Spencer director, was hustled into the office two months early as Tesco's new finance director to help with the accounting investigation. Before the end of the month, Tesco's second biggest shareholder, BlackRock, had dumped its shares.
October wasn't any better. The month opened with Warren Buffett saying buying shares in Tesco was 'a huge mistake' and news that the firm had recently taken delivery of a $50m (£32m) Gulfstream G550 jet bought by former CEO Phil Clarke in 2013 – and which Lewis promptly put up for sale. On 23 October, its interim results showed not only that the black hole was bigger than expected, at £263m, but that the accounting errors went back at least two years. The chairman, Sir Richard Broadbent, quit.