Next's warm weather profit warning will send shivers down the high street
If unseasonable warmth really is to blame for clothes-sellers' woes, maybe they should hedge against the weather.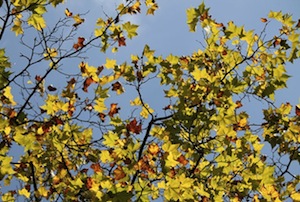 Most of us are wondering whether to get out our warmest winter coats or pack them away again. What we aren't doing, though, is buying more of them - at least that's Next's excuse for its profit warning this morning.

A month ago, the retailer had warned it would have to dampen earnings expectations if the mild weather continued and, lo, 'October remained unseasonably warm'.

Profits for the year to January 2015 will be between £750m and £790m, the company said, a 3% cut from its previous forecast of £775m to £815m. Third quarter sales grew 5.4%, almost half the original prediction of 10%.

The warning will no doubt send a chill wind scuttling through the high street as Next has become a British retail success story in recent years, overtaking arch rival Marks & Spencer (which could well do worse out of this warm snap - we'll see when they post interim results next week).

It also comes after the British Retail Consortium said retail sales fell 0.8% in September compared to the same month last year, although that was then counteracted by the Office for National Statistics saying they had increased 1.3% over the same period (gotta love statistics).

No doubt weather does have an impact on retailers: a hot summer will send us running to buy bikinis and barbecues, while an icy winter reminds us we could do with a new pair of gloves and warmer jumpers. But if companies can't turn it around for the crucial Christmas rush, they won't be able to just blame fickle British seasons.

And with climate change making extreme, unseasonal weather increasingly common, retailers might have to start thinking ahead a bit more. Energy companies guard against oil price swings, multinationals have to deal with currency fluctuations, so why not hedge against the weather?