'Nice pic. Phwoar': O'Leary takes to Twitter
Ryanair boss Michael O'Leary answering customers' questions was never going to be a good idea.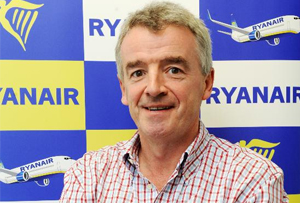 Let it never be said that Ryanair boss Michael 'you're not getting a refund so f**k off' O'Leary isn't true to himself.

In what some might refer to as 'an ill-advised attempt at making someone uniquely unlikeable seem cuddly', but the man himself would no doubt call 'PR b*llocks', yesterday O'Leary was wheeled out in front of customers to answer questions on Twitter under the hashtag '#GrillMOL'. Predictably, hilarity ensued.

We can only assume this was the wizard wheeze of the over-enthusiastic new kid: anyone else would have realised this project was doomed from the start. Once it got started (50 minutes early – a scheduling error, apparently: Twitter appreciated the irony), questions from customers came in thick and fast.

Among the more light-hearted ones were 'what type of people do you enjoy mistreating most? I'm guessing elderly and disabled?' and the rather more accusatory 'were you born an *rsehole or has it progressed throughout your life'. One tweeter asked whether Ryanair had 'a valid export license for your cattle business', while another suggested there was 'a rumour that you plan to charge passengers for each inhalation they make after take-off'. O'Leary's riposte: 'Great idea. Have a team workin' on it as we breathe!'
'Two coffees' O'Leary dons his Twitter beard
Several customers took the opportunity to point out that, despite tragic circumstances, they were being refused refunds. 'Due to fly to Riga on Saturday but can't go as my mum in law is losing her cancer battle. 388 quid to re-book seems unfair', said one: an echo of the episode during which the airline forced Dr Muhammad Taufiq Al Sattar, who had just lost his entire family in a house fire, to pay extra to switch flights.

Others took the opportunity to rib Ryanair for the distance between its 'destinations' and the actual airports passengers arrive at. 'Tried to send you a question on Twitter but it ended up on Facebook instead. Still, by your standards that's close enough', said one. 'How far is Ryanair Frankfurt to Frankfurt to the nearest 100 miles?' asked another.

As usual, insults slid off O'Leary like water off a duck's back. Although alongside his usual cheery demeanor, ('Get back to work you slacker or you're fired', he growled at one employee who dared to tweet about the Q&A), O'Leary displayed a worryingly loose grasp of spelling and punctuation for a chief executive (sample tweet: 'Cos we want u to print it off before arriving at airport. Wud u show up w'out passport?'). Also, a PR-busting fondness for the ladies: 'Nice pic. Phwoaaarr!' he tweeted at one unfortunate. 'Always compliment ladies pics,' he added afterwards, by way of defence. Gross.

All this is part of Ryanair's attempt at improving its reputation, after the airline was voted the UK's worst brand at customer service. At least it wasn't as cringey as British Gas' attempt at Twitter engagement. And clearly, O'Leary is wholeheartedly behind the strategy….