Take that Nige: EU immigrants give more to the UK than they take
EU migrants put in more than they take out, according to two reports. Someone had better tell Nigel.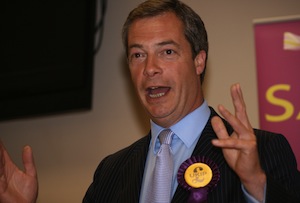 In the heated arena of pre-election British politics, reports on immigration are like pieces of meat thrown to a pack of hungry dogs. Unsurprisingly, then, there has been quite a feeding frenzy over the two succulent bratwurst released this week.

The ONS yesterday released figures from the 2011 Census showing that European migrants were more likely to be employed than British-born people, with 81% of Polish immigrants in work compared to 69% of those born here.
Then, today, UCL's Centre for the Research and Analysis of Migration released a report saying that migrants from the 10 central and eastern European countries that joined the EU in 2004 had contributed £4.96bn more to the public purse by 2011 than they took out in services.

The anti-migration lobby was not pleased. While disputing the figures, Migration Watch chairman Sir Andrew Green said the reports were snapshots, and as such didn't reflect the true costs of immigration. 'If you take a group of people while they're young fit and healthy, they're not going to be very expensive, but if you take them over a longer period they will be,' he told the BBC.

This, of course, makes the assumption that economic migrants will elect to live out their years feasting on the opulent largesse of the British state pension, rather than return to live with their families, but that's by the by.

Furthermore, the timing of the recent migration has very likely prevented Britain from having the kind of demographic hard landing that faces countries like Italy or Japan, whose retired populations are beginning to swell drastically.

A stronger line would be that both studies painted a less optimistic picture of immigration as a whole. Non-EU migrants, who made up 4.6 million of the 7 million foreign-born population in 2011, were less likely to be in employment, according to the ONS. The UCL report said they had also cost the public finances £117.8bn between 1995 and 2011, compared to EU migrants who had added £4.4bn.

It's true that these don't look too healthy, but it should also be pointed out that British-born people also 'cost' the economy £591bn over the same period, in the form of government debt.

Clearly, there are many facets to the immigration debate, not all of them economic. But, at least where European freedom of movement (something Germany warned the UK this week is non-negotiable) is concerned, the numbers aren't supporting the case that a Brexit would be in the interests of Britain's businesses and its economy.