Nightclub shows footballer the red card
Here at MT we're always keen to see businesses do their bit for the local community. So we were delighted to hear that Sunderland nightclub The Glass Spider has banned one of the local team's football players, in an attempt to spice up his league form.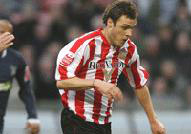 Anthony Stokes, a footballer with Premiership side Sunderland, has been barred from his favourite night-spot – described as 'the liveliest club in Sunderland', for what that's worth – to make sure he lives up to his burgeoning reputation.
It follows a quip from manager Roy Keane after Stokes scored a last-minute winning goal against Derby on Saturday. When asked what would prevent the 19-year old from fulfilling his huge potential, Keano suggested that 'the obvious pitfall is the Glass Spider in Sunderland'.
Inconsolable at the thought of undermining their beloved team – and presumably, with an unerring eye for some free publicity – the management of the Glass Spider have now decided to show Stokes the red card. 'As great Sunderland supporters we obviously want to see them do well and if Roy Keane thinks The Glass Spider is a distraction, then we have decided to bar Anthony until the football season ends so he can concentrate on his game', the owners told the Sunderland Echo.