The nightingale poo facial
Here at MT, we've seen some weird and wonderful products in our time. But a face mask made of bird poo?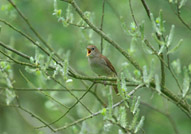 Most right-thinking people tend to have a bit of a downer on bird droppings, for the obvious reasons that they don't smell very nice and they tend to make a nasty mess of your suit. Ask the ballet fans who had to leave a (indoor) performance in Bristol this week when they were bombarded by pigeons.
But as if to prove that one man's meat is another man's poison (or should that be vice-versa?), one enterprising establishment is now persuading wealthy women to pay (presumably through the nose) for the privilege of having nightingale poo plastered all over their faces.
According to Hari's salon in London's Knightsbridge, nightingale poo apparently contains an amino acid called guanine, which has been used by Japanese geishas and monks for thousands of years to heal and bleach the skin. Or at least that's their story, and as long as people are prepared to pay to be lathered in excrement, they're sticking to it.