Nike ditches its sponsorship deal with Manchester United
The new deal that was offered 'did not represent good value for Nike's shareholders'. That's pretty direct.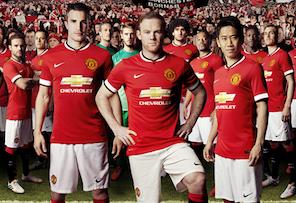 It's not as humiliating as the 7-1 thrashing Germany doled out to Brazil last night, but, with money as big as it is in football these days, Nike ending its sponsorship of Manchester United is still pretty embarrassing (perhaps it's a sore loser - it was backing Brazil, while Adidas had its money on the Germans).

'Any partnership... has to be mutually beneficial and the terms that were on offer for a renewed contract did not represent good value for Nike's shareholders,' the American sports giant, whose famous swoosh logo has been splashed across the Red Devils' shirts since 2002, said in a statement.

That sounds like a pretty damning indictment, after Man U suffered its worst ever Premier League finish last season and failed to qualify for the Champions League for the first time in 19 years, which Deloitte estimate will cost the club £50m, or 10% of its annual revenue. Those dire results cost David Moyes his job as manager after just 10 months in charge, even though he'd handpicked to take over from Sir Alex Ferguson.

It may not be entirely disastrous for Man U, though. Nike had paid £24m a year to sponsor the club, but the figure rumoured to be under discussion between the reported remaining contenders Adidas and US sports gear maker Warrior, is £600m over 10 years. That would dwarf the £31m a year Adidas pays to sponsor Real Madrid.

A seven-year deal with American car maker Chevrolet, worth £53m a year, was signed back in February. Last year, the team scored £120m over eight years from insurer Aon to sponsor its training ground and kit.

Unless incoming manager Louis van Gaal returns the club to winning ways, though, it won't be able to continue netting such lucrative tie-ups. But the Dutch national coach takes the Netherlands to the World Cup final and overcomes the all-conquering Germans, fans and investors alike might actually look forward to the new season.