Nike puts XL price tag on Umbro
Umbro may be about to lose a big chunk of next year's profits, thanks to the continuing woes of the England football team, but it will be laughing all the way to the bank today after accepting a £285m takeover bid from rival Nike.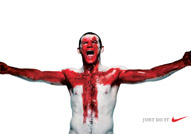 Nike has offered 195p per share for Umbro – that's a 61% premium on the share price prior to the approach being announced. Not surprisingly, Umbro's board and management (some of whom are set for multi-million pound windfalls) are keen as mustard, calling it 'an excellent deal for all our stakeholders'.
Shareholders probably can't believe their luck either. If England fails to qualify for the European Championships (as looks likely after last week's defeat in Russia), sales of replica shirts will nose-dive, slashing the company's profits for next year. Suddenly it has a Nike in shining armour.
The potential joker in the pack remains Mike Ashley's Sports Direct, which owns 15% of Umbro. If Nike hasn't already cut a deal with Ashley, he could still throw a spanner in the works - he might have been able to squeeze Umbro on kit prices, but the same strategy is unlikely to work with Nike.