Nikki King: 'Never promote out of loyalty'
INSPIRING WOMEN: Nikki King, the world's first female MD of a truck manufacturer, on starting her career at 40 and why she's known as a 'different sort of chap'.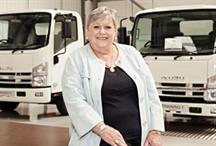 1. Which businesswoman do you most admire and why?
Without doubt, Carolyn McCall of easyJet. The role of CEO in this company is not an easy one (pardon the pun!). The major shareholder is not easy to work with and the slim margins leave little room for error or spending on soft skills. Carolyn has managed all facets brilliantly and has given the company a leading edge by massively improving customer service. Even Ryanair has been forced to change culture as a result.
2. Do you have a mentor? If so, who and why?
I have had many mentors in my career. Sometimes you need to bounce off many different people with different skill sets so one mentor rarely cuts it.
However, my number one mentor who took me through the management buyout, the early days of owning my own business and the eventual sale to Isuzu was John Harvey, chairman of Tibbett & Britten. Having bought the company from Lever Brothers and sold to DHL, John was the perfect mentor and a hugely supportive friend.