Nipping nepotism in the bud
CRASH COURSE: How to make sure you avoid unfair bias in recruitment and employment practices.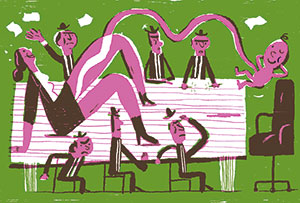 Your new head of social media has just been introduced. She seems pretty smart but it turns out she's the IT director's niece, and only graduated three months ago. Tongues are wagging and there've been a couple of pointed comments on Glassdoor. Should you be doing something about nepotism?
Know what it is. 'Nepotism is where the power to make a decision is combined with bias,' says Ksenia Zheltoukhova, research adviser at the CIPD. The beneficiary could be family, a friend or even someone from your old school, but the crucial point is that preference is based on relationship rather than talent.
What about networking? Word of mouth can play a part in finding good people, and your staff will quite likely know some of the best candidates around. 'There's no problem with introducing your contacts to an opportunity,' says Zheltoukhova, 'so long as the final decision is based on merit.' Otherwise it's cronyism.