Nissan revs up Sunderland plant with £250m injection
Japanese carmaker Nissan has announced ambitious new plans for more 'upmarket' vehicles to be produced in its Sunderland plant, in an investment worth £250m.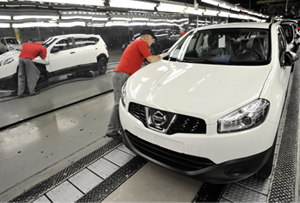 Some good pre-Christmas news for people working in Nissan's Sunderland plant today, as the firm announced that around 1,000 new jobs will be created by its decision to build a new premium car model under the Infiniti brand.
Only 280 of these jobs will actually open in the plant itself – the others will be created in the supply chain – but the plans represent a £250m investment in the facility and should reassure everyone that the firm plans to stay put for at least the next few years.
Production of the new model will start in 2015, but the extra jobs and the choice of Sunderland for producing the new vehicle are a major vote of confidence in the UK's resurgent car industry. The model was originally launched in the US as Nissan's answer to Lexus, but this will be the first time it is seen on Britain's roads.