Nissan to turn over a new Leaf in Sunderland
A boost for the UK auto industry, as Nissan announces it will build its new electric car in the North East.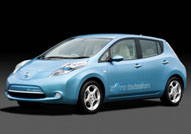 Good news for the beleaguered UK car industry this morning: Japanese car manufacturer Nissan has decided to make the world's first mass-produced zero-emissions car here in Blighty. Nissan's five-seater electric car, to be called the 'Leaf' (yuck), will be built in Sunderland from 2013. Nissan says it chose the UK as it was impressed by our 'direction in environmental policy' - although a substantial government hand-out to help kick-start the project probably helped too. Indeed, Lord Mandelson is clearly in a generous mood, since the Government has also agreed to back Ford's plans to make greener cars. We're all for the Government giving UK manufacturing a helping hand - though the cynic might wonder if the imminent election may have something to do with it...

Nonetheless, Nissan's decision to produce the Leaf here in the UK is great news for Sunderland's economy. Plans to build 50,000 cars and 60,000 batteries a year from early 2013 will not only safeguard 2,250 jobs both at the carmaker and within its supply chain; it will also create 550 more. Admittedly this isn't a big departure for Nissan: the company's European factory has operated in the town since 1984 and already employs 4,000 people. So it makes sense to make the Leaf here too.

There were other draws for Nissan too. Sunderland is close to its main European markets, which can be served very easily by the nearby Port of Tyne. Also, one North East (a regional development quango, which might mean that it won't live to see its next birthday) has already announced that a network of 619 charging points will be ready in the region by the start of next year (although they'll need them further afield, too, given that the Leaf needs charging every 100 miles - unless you're planning to spend a lot of time in Sunderland).

However, the clincher may well have been the Government agreeing to hand over a £20.7m wedge under the Grant for Business Investment Scheme. That's no small sum given the current state of the public finances. But Labour strategists might consider it a small price to pay to shore up some electoral support in its Northern heartland.

Fellow carmaker Ford is also enjoying the Government's renewed interest in manufacturing and R&D; it will receive £360m in loan guarantees to help it in its quest to produce more environmentally friendly vehicles. This will help safeguard around 2,800 highly skilled jobs at its factories in Essex, Hampshire and Glamorgan. Good news for local workers, and possibly good news for the Government's chances at the ballot box.

In today's bulletin:
Darling gets war-chest as borrowing not as awful as expected?
Nissan to turn over a new Leaf in Sunderland
Uproar as Prudential boss takes non-exec role at SocGen
Greenpeace goes for broke with killer Kit Kat campaign
MT talks to The Catering Academy's Louise Wymer