No cause for cheer as unemployment hits 2.47m
The claimant count may be down, but the latest news on jobs is still pretty grim for the Government.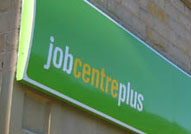 There was some good news in today's unemployment figures: a bigger-than-expected drop in Jobseeker's Allowance claimants, which means the state has to fork out less in benefits, and a small rise in the number of employed people. But with the overall jobless count inching up by 23,000 to 2.47m in the last three months - even before the bulk of the cuts in the public sector - and the number of economically inactive people also on the rise, we doubt the Government will be feeling hugely positive...

Admittedly the 30,000+ drop in the claimant count is probably good news, for a couple of reasons. The most obvious is that it reduces the Government's gigantic benefits bill, which is handy when you're a bit skint (as we are). But glass-half-full types would also argue that it's a positive leading indicator - in other words, since the overall unemployment number tends to lag the claimant count slightly, it suggests the job market may be starting to recover. The 5,000 rise in overall employment could be seen as a further sign of this.

On the other hand, the overall uemployment rate is still rising; it now stands at 7.9%, and the number of redundancies was up again last quarter. Also, there are now 8.19m people classed as 'economically inactive' - because they're studying, or on long-term sick (up massively last quarter), or they've given up jobseeking altogether. That's flattering the claimant count, and reducing the productive capacity of the economy. So - good news for state spending in the short term, but bad news for the recovery in the medium to long term.

And then, of course, there's the big question: what's going to happen to public sector employment? With swingeing spending cuts likely in next week's Budget, some analysts are already suggesting that the unemployment figure could head north of 3m before too long. Even if the private sector is showing some signs of recovery, it's unlikely to be able to pick up all the slack - and the inevitable strikes will also cost money. Either way, the Government's financial upside is likely to be short-lived.

In today's bulletin:
We will make BP pay, says Obama (but what about everyone else?)
No cause for cheer as unemployment hits 2.47m
Sainsbury positive despite slowest sales growth in five years
A Traveller's Tale: Recessionary Rome is remarkably robust
Is Tesco right to promote from within?