No cigar for Grade as ITV boss moves upstairs
ITV boss Michael Grade is giving up his CEO role, as the channel comes under mounting pressure...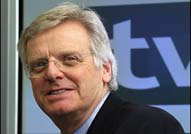 Michael Grade has announced he will step down as ITV chief executive by the end of this year, 12 months earlier than planned, and become non-executive chairman instead. The company doesn't seem to have anyone lined up to take over, saying only that it'll appoint someone 'as soon as practicable'. Governance groups will be pleased that the two roles are finally being split - and as a natural impresario, Grade could make a great non-exec chair. But will anyone actually want the CEO job?

Grade, billed as 'the saviour of ITV' when he arrived in November 2006, insists he's leaving ITV in a much better position, saying it's been 'revitalised'. However, it doesn't necessarily look that way, at least on paper. Just last month, ITV reported a loss of £2.7bn and said it would be cutting 600 jobs, scrapping its dividend and cutting its programme-making budget. It was a similar story in 2007, when profits slumped by 35% in Grade's first full year as chairman.

But Grade has never been one to dwell on the negatives, as we discovered when we interviewed him back in February 2008. 'We had a very good 2007', he said confidently, before explaining to a slightly confused MT: 'I'm not talking about financially, but I am talking about audience numbers, show revenue and the way things have gone.' Unfortunately, it seems the financial figures never did get any closer to matching his other measures of success. (Which, sadly for Grade, may prevent him from pocketing those juicy fat bonuses that probably helped persuade him to take the job in the first place.)

ITV has suffered badly from the horrendous decline in the advertising market, which has collapsed during the recession. Grade might have halted the slide in viewing figures over recent years – actually increasing audience numbers in 2007, albeit by a minuscule 0.01% – but now viewers have so many channels to choose from, it's still a way off its former glories.

ITV's biggest hit since he arrived has been 'Britain's Got Talent', the show that gives Simon Cowell large sums of money to belittle even more people desperate for their five minutes of fame. But that was bought from an existing US franchise, and some critics have suggested that there weren't a huge number of great new ideas coming through.

Refocusing the business seems to have been where Grade had most success. Last year, ITV made £15m selling Liverpoolfc.tv. It's now looking to raise as much as £200m by selling its digital business SDN (which leases space on Freeview), plus a much smaller amount by flogging the Friends Reunited website, which has proved unable to keep up with the likes of Facebook and YouTube in the social network stakes.

But with advertising still on the slide, ongoing regulatory pressures, financial constraints and increasing competition from satellite, it will take a brave exec to step into Grade's shoes...


In today's bulletin:
IMF adds to gloom as Darling fails to slay deficit dragon
No cigar for Grade as ITV boss moves upstairs
Revitalised Debenhams plans expansion as profits surge
Businesses cry foul as Budget comes up short
How to make your management recession-proof