No crunch for card fraudsters
Credit card crooks are now nicking a whopping £300m a year, despite the introduction of chip and pin security.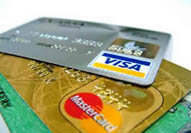 That's 14% - getting on for £40m – higher than the figure for 2007. That'll do nicely, as they used to say in the ads for one well-known transatlantic card brand. The figures are up across the board, with the biggest increase from card cloning (up 22% to £88m) - although the largest single chunk of fraud remains the notorious 'cardholder not present' transactions required for phone and internet shopping, which was up 18% to £162m. Fraud committed abroad is also up – 11% to £121m. Anecdotally this seems entirely plausible – a straw poll of the staff here at MT Towers reveals that three out of five of us have been ripped off in the last year or so.
Overall, the figures are not good news for the costly and much-trumpeted introduction of chip and PIN card security in 2006. The only area in which much success can be claimed for this technology is in fraud from lost and stolen cards, down 11% to £27.3m.
To be fair, chip and PIN was only ever going to stand a chance of cutting fraud in-store, since it relies on the cardholder being there to enter their PIN. Other security – like the newly introduced and effectively compulsory Verified by Visa scheme – is needed to tackle online fraudsters.