No dosh for Italy, says IMF
Italy's national paper, La Stampa, announced this weekend that the IMF was handing its cash-strapped country a €6bn loan. Certainly not, retorts the IMF.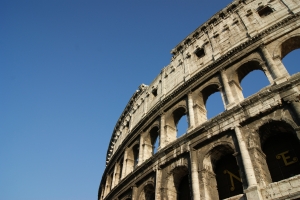 The markets jumped at the first sniff of a lifeline. Earlier today, the FTSE was up 2%, Germany's Dax up 3.2% and France's Cac up 2.7%. Even once the International Monetary Fund issued a rebuttal – 'There are no discussions with the Italian authorities on a programme for IMF financing.' - trading held steady.
No one wants Europe's third-largest economy to fail. But trying to force the IMF's hand by 'announcing' a non-existent hand-out is a desperate strategy. There is a lot at stake, admittedly - a default on Italy's €1.8tn debt would very probably destroy the single currency. And there is renewed optimism amid signs that Italy is making a valiant and concerted effort to save itself from financial ruin. New Prime Minister Mario Monti and his crack team of technocrats are expected to announce a raft of new policy any minute now (was the La Stampa editorial published at his bequest, we wonder?). Tomorrow, Italy is holding an auction of up to €8bn in bonds. Ordinary Italian citizens are being encouraged to throw in to save their economy by investing in these new BTPs.
The markets can also afford to be slightly optimistic. Italy may not be getting its bumper loan but there is still cash to be had. The IMF has just launched its new precautionary and liquidity line. This pot of money can be used as insurance against future shocks in the eurozone, or provide short-term liquidity for embattled nations: they can now borrow up to ten times their contributions to the IMF.

Beyond bella Italia, the eurozone is having a pretty rocky morning. Its nations woke today to find their ratings teetering perilously close to junk. 'The probability of multiple defaults by euro area countries is no longer negligible,' proclaims ratings agency Moody's. 'This would very likely cause those countries' ratings to be moved into speculative grade [or 'junk', as its more commonly known]. The longer the liquidity crisis continues, the more rapidly the probability of defaults will continue to rise.'

This week will be crucial for the eurozone as investor confidence is tested to the limit. Belgium is seeking to raise €1.3bn at a debt auction today. A good showing should boost confidence in Italy's bond auction tomorrow. With economists predicting imminent recession and Italian government debt at 118% of GDP, these bonds need to sell like mama's meatballs to keep Italy on the straight and narrow. Still, without concerted action at a pan-European level, any respite is likely to be short-lived.