We had no idea, admits Bank of England boss
Sir John Gieve admits the Bank completely failed to grasp how bad the UK's economic position was...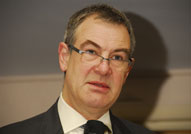 Bank of England deputy governor Sir John Gieve has confessed that the UK central bank didn't realise how serious the implications of the lending explosion would be for the economy as a whole. Sir John told the BBC that he and his colleagues realised there was a housing bubble developing – but it decided, in its wisdom, that this would deflate without damaging the rest of the economy. This is the man, remember, with specific responsibility for the UK's financial stability. Doesn't exactly fill you with confidence, does it?
In a remarkably frank interview with the BBC's Panorama, Sir John came clean about some of the Bank's failings over the last year: although the MPC realised that 'crazy borrowing' was creating an unsustainable explosion in asset prices (particularly houses), they didn't act decisively enough because they thought it would eventually sort itself out without spilling over into the so-called 'real economy'. And we know how that turned out. We're all for honesty – particularly given the reluctance of many of the bankers involved to show regret for their catastrophic mistakes – but you'd hope the people tasked with overseeing the British economy might be a bit more competent at this kind of thing...
For his part, Gieve blames interest rates – or at least, the Bank's reliance on them as a tool for manipulating the economy. He told the BBC that the committee didn't want to raise rates last year because although it might have deflated the housing bubble, it would have depressed activity elsewhere in the economy. 'And people would have said: 'this is a wilful reduction in the prosperity of the country', he claimed. This just proves that interest rates are a 'blunt instrument' for dealing with this kind of bubble, he says. Instead, the Bank needs some other kind of mechanism that 'prevents the financial cycle and the credit cycle getting out of hand' (like restricting the amount banks can lend relative to their capital, for example).