No news is good news for Marks & Spencer
Another big profit slump for struggling M&S - but it wasn't quite as bad as everyone expected...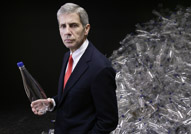 M&S said this morning that pre-tax profits plunged 34% to £297.8m in the six months to September 27m, after another disappointing sales performance. Overall revenues were down for the third quarter in a row (a 1.1% drop this time), as it continued to lose market share in its food business and non-food sales slipped again. On the plus side, this profit figure was still slightly ahead of analysts' predictions of £280m-£295m, boosting its share price this morning. At the moment, bad news is all relative…
Nonetheless, it was a pretty grim set of results from M&S today – a clear sign that shoppers are staying away, despite the retailer's recent efforts to prettify its stores. Clothing and homeware sales fell by 6.2%, while food sales were down 5.3% - and even more worryingly, its market share declined from 4.3% to 4%. So it's not just losing out from a general slowdown – it's actually seeing its business disappear to rivals.
Not surprisingly, M&S boss Sir Stuart Rose said improving the performance of the food business will be a major focus for in the coming months. The top priority will be improving the value proposition, as he looks to woo back customers scared off by its higher prices. He's already slashed prices on about 530 of its bog-standard products (accounting for roughly 10% of its entire range). 'Consumers are telling us 'we like your stuff but it is a bit difficult out there, can you help us?' he told reporters today. And he's launched promotions like 'Dine in for £10', which he says are 'starting to drive footfall and encourage renewed interest from our more occasional customer'.