No-Panic Room
A scientist says he's created the world's most relaxing room - and you can use it in your tea break.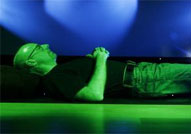 Is the credit crunch keeping you up at night? Professor Richard Wiseman, a psychologist at the University of Hertfordshire, may have the answer: he's combined all the latest thinking on relaxation techniques to design a room so relaxing that it can supposedly wash away the most stubborn of cares in just fifteen minutes. Wiseman reckons it's a great way for businesses to cut down stress-related absenteeism – and once he's factored in the results of his latest experiment this week (when it's open to the public), he's going to start telling companies that they can't live without one.
Heaven knows we've all got enough to be stressed about at the moment, what with the financial doom and gloom, winter drawing in rapidly, and another ten weeks of the X Factor still to go. So this innovation from Wiseman – who you might remember as the author of business bestseller 'The Luck Factor' (a book about the habits of lucky people) – comes at an opportune time. 'The pace of modern-day life, credit crunch, and financial crisis is making many people feel very stressed and so we have created this space to help them relax,' says Wiseman.
Apparently the room – sorry, the 'large-scale multimedia space' – features soft-green lighting, artificial blue skies, a delicate scent of lavender and soft matting to lie on, while the gentle sound of a female voice (mixed with a Tibetan singing bowl, of course) lulls you into a state of deep relaxation. And of course, the science is impeccable: 'Previous work has shown that these colours, sounds and smells all help people relax, but this is the first time that they have been combined in this way,' Wiseman explains.