No way to get rid of a manager
As Liverpool's treatment of Rafael Benitez shows, the normal rules of business just don't apply in football.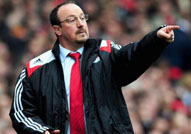 Top-level football is big business these days - the playground of oligarchs, billionaire oil sheiks, and international financiers. Yet the normal rules of business still don't seem to apply. The latest in a long list of examples of how not to treat your manager comes from Liverpool, where Rafael Benitez has just been ousted after a long and very public row with his paymasters. If PLCs are ever worried about the shortcomings of their own governance, one look at the likes of Liverpool should be enough to show them what a dysfunctional boardroom really looks like…

It's not so much the fact that Benitez is out of a job. In football, more than in most organisations, managers are accountable for a team's performance – so after a relatively disastrous season, in which Liverpool won nothing and finished in their lowest league position for over a decade, there was a decent argument for a change at the top. What really grates is the way this unedifying saga has been played out in the press over the last year or so, with both sides apparently briefing journalists off-the-record and using the media to get their story across – rather than just talking to each other, as they do in normal organisations.

To be fair, Benitez has been just as guilty of this as the club's much-reviled owners, US financiers Tom Hicks and George Gillett (who are doing their level best to undermine the 'special relationship', at least on Merseyside, where the Old Glory was being burned last night). But this week's endgame – it emerged yesterday morning that Benitez had been offered a £3m severance package to quit, effectively making his position untenable – was still a shoddy and undignified way to force out a manager who remains popular with many Liverpool fans (unlike the owners, the MD, and their new Chelsea-supporting chairman, BA's Martin Broughton).

Sometimes, managers have to be moved on. It's not a nice situation, and it's difficult for all concerned, so it needs to be dealt with quickly, professionally and in a way that respects the dignity of the leaver. That's particularly true if you're an organisation that prides itself on doing its business behind closed doors, in a decent and low-profile manner, as Liverpool does (this is what fans of the club often call proudly 'The Liverpool Way'). The handling of this situation couldn't be further removed from that.

We're not exactly surprised (even financially, different rules seem to apply to football – during the recent collapse of Portsmouth, it emerged that the club continued paying seven-figure wages to its players while reneging on commitments to the taxman and local charities). And, not least because of his rumoured £6m pay-off, Benitez isn't entirely a victim here. But it's still no way to run an organisation, of any stripe. We're going to send Messrs Broughton and Purslow a copy of our new book 'The Management Masterclass', and offer them a special discounted rate on the MT/ Mindgym Masterclass training course (shameless plug alert)...

In today's bulletin:
BP to risk US wrath by not cutting dividend?
Will the Sun come out for Richard Desmond?
EasyJet traffic up as it unveils ash radar
Banks 'have not served enterprise in this country', says Cable
No way to get rid of a manager