No sign of tapering out
Alistair Darling shows no sign of succumbing to the pressure from business groups, entrepreneurs and even trade unions to reverse his controversial decision to scrap taper relief on capital gains tax. But that's apparently not going to stop people trying.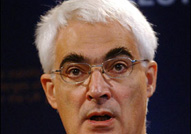 MT was in London on Thursday for an event organised by entrepreneur network The Supper Club, designed to put business owners in a room with tax experts and politicians to debate the issues involved. We were looking forward to hearing the government defend its position, in the spirit of democratic consultation – but naturally, they declined several invitations to attend.
Predictably, the entrepreneurs at the event (including youthful Glasses Direct founder Jamie Murray-Wells) argued forcibly against the changes – and not just for the effect on their eventual pay-day. Employee share schemes would also be affected, while it could also make angels less likely to plough money into start-ups, some suggested.
'It's a bad mistake, which will damage Britain's culture of enterprise,' agreed Tory MP David Gauke, promising that his party would exert 'maximum pressure' on the Chancellor to change his mind and vote against it if it makes the Finance Bill (though he stopped short of promising to reverse the decision if they ever come to power). He also encouraged those in attendance to lobby wavering Labour backbenchers.