Nomura's dress-code shows up cultural divide
Which suit to wear to work? Not 'the one of lustrous material,' says Japanese bank.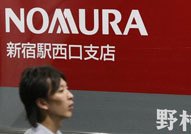 A year after successfully snapping up some of the juicier fragments of the fallen Lehman Brothers, Nomura has demonstrated how teething troubles can sometimes persist in otherwise happy international mergers. In this case, linguistically.
In a recent e-mail circulated to staff in a bid to get them to smarten up, Nomura politely pointed out that 'gay colour nail polish' wasn't acceptable; anyone with a query on the firm's trouser policy was reminded to 'wear the one gives to the ankle to the height of pants'; and, with summer now over, skirts were forbidden to be either extremely short or be 'a skirt that deep slit entered'. With instructions as baffling as those it's a surprise its team didn't just bin the idea of getting dressed altogether.