Non-execs in the firing line during downturn
Big public companies have slashed their number of non-execs - but is this a short-sighted move?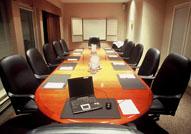 The reputation of non-execs has taken a bit of a hammering in the last year or so, so perhaps we shouldn't be surprised that according to new research, the number of NEDs serving on the boards of FTSE 100 companies has been slashed by 16% in the last financial year. The report, by the Reward Technology Forum, also shows that those still in a job have seen their juicy remuneration packages take a hit (even though executive director salaries have actually risen during the period). At a time when cost-cutting is top of every corporate agenda, non-execs must look like an easy target – but if the crunch was to some extent due to failures in governance, is it really wise to reduce the level of governance now?

Of course we should stress that the surviving NEDs aren't exactly on the breadline: the average FTSE 100 non-exec earned £81,930 last year, which isn't bad considering they usually work about 30 days a year. Nonetheless, this is apparently down by about 5% from the 2007-2008 figure of £86,576. And while it may seem reasonable enough for the board to share in the rest of the company's pain, it's worth remembering that FTSE 100 bosses saw their salaries increase by 7.4% this year, according to Income Data Services. (Those non-execs on the remuneration committee may not have been very popular with their colleagues after that.)

However, non-execs are clearly seen as much more expendable. And what's more, it's women who are bearing the brunt: the number of female non-execs fell by 22%, while the number of men was down 15%. Since there were so few women on FTSE 100 boards in the first place (there are now just 96 female NEDs, compared to 535 men), this discrepancy is even more alarming. Given that excessive testosterone seems to be one of the things that got us into this mess, you'd think attracting board-level female talent should be at the top of the to-do list.

Some of the corporate disasters of recent times seemed to point to a failure of NEDs to hold the executive to account, and it's clear this has had an impact on how their effectiveness is perceived. With CEOs looking to slash costs, chopping a few non-execs must seem like an easy saving. But with governance and risk management requirements increasing all the time, big public companies need a strong, independent and well-qualified board to keep a firm hand on the tiller. Employing fewer non-execs (and paying them less) isn't necessarily the best way to achieve this.

In today's bulletin:
Union threatens longer postal strikes as talks collapse again
Shell shock as profit slump forces job cuts
Yves Saint Laurent tops list of wealthiest dead celebs
Editor's blog: Lemonade brews up storm State-side
Non-execs in the firing line during downturn