Non-profiteer winner: Jane Burston, Centre for Carbon Measurement
FUTURE LEADERS AWARDS: In our search for the rising stars of sustainability, Jane Burston, the head of Centre for Carbon Measurement, wins the non-profiteer category for her work on climate change.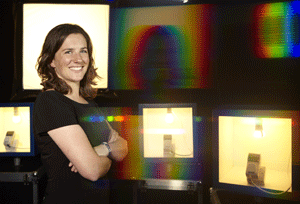 If you want somewhere discreetly prestigious to work, then you could do no better than the National Physical Laboratory in Middlesex. It's where Sir Barnes Wallis developed the bouncing bomb that was used in the Dam Busters wartime raids and where scientists Alan Turing and Sir Robert Watson-Wyatt worked.
Not that Jane Burston is a scientist. Instead, she heads the NPL's Centre for Carbon Measurement, which supports climate science, policy and low-carbon business communities. The first of its kind in the world, it comprises the work of about 150 scientists, and seeks to answer imponderable questions such as how can we better predict the extent and impact of climate change, and how can the claims of new technologies be validated.
Just 31, Cambridge philosophy graduate Burston believes that 'climate change is the biggest challenge facing my generation; sustainability is the opportunity presented by that challenge'. This belief is the guiding purpose of her career. Before NPL, Burston was a co-founder of the noted social enterprise Carbon Retirement, which reformed emissions trading and carbon offsetting, and for which Burston won numerous awards.