Norwegian oil giant to make $7bn splash in North Sea
The Scandinavian oil giant Statoil has announced plans to invest £4.3bn in an old North Sea oilfield, creating 700 new jobs in the UK oil industry.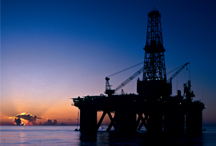 It's a patch of the North Sea that has been drilled for around 31 years already, but Statoil reckons there are another 30 years of life left in it with production topping 55,000 barrels per day.
The oilfield is about 95 miles southeast of the Shetland islands, meaning that at least 200 of the new jobs will be onshore in Aberdeen. The firm said it wants to recruit most of the new staff in early 2013 to get the ball rolling.
There are still some hurdles, like getting final approval from the UK's authorities, but it is thought Statoil's new facility will be producing oil by around 2017.